WORSHIP IS AT THE HEART OF HYDRANT
Worshippers of all ages matter to Hydrant.
We offer different ways to Worship in this unusual season.
Worship is the time when we CONNECT with God. It is a place to open ourselves up to Him, to celebrate Him, and find new strength, hope, and love to sustain us in our deepest needs.
FREELY WE RECEIVE… FREELY WE GIVE
THANK YOU
Thank you for your willingness to give. Your generosity and faithfulness extends the influence of this great church that ministers to you and others.
Scripture reads,
"You must each decide in your heart how much to give. And don't give reluctantly or in response to pressure. For God loves a person who gives cheerfully."
Next Generation Ministries
In
Hydrant Kids, we value our children and work to create safe and exciting learning environments for them at every age. From infant through elementary school age, your kids will be safe, loved, and encouraged to discover for themselves the love and faith in the God who's already at work in their lives.
In Hydrant Students, we get that middle school and high school students are going through more than many of us will ever know. We seek to come along side students and encourage them to discover and live an authentic faith that fills their lives and overflows all around them.

Life Groups
Life Groups provide the next step in connecting with others in Hydrant Church. In Life Groups around the struggles and joys of following Jesus. Click on the picture to email our Life Groups director for more information.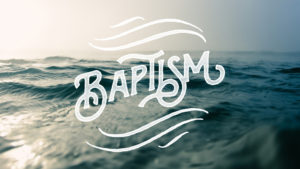 Baptism
Learn all about Baptism and talk with a pastor about being baptized at the next opportunity. Click on the picture to learn more and sign up.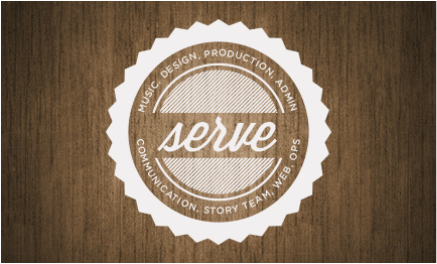 Loving is Serving! A great next step as you get involved in Hydrant Church is to serve. Link arms and serve i
inside through the ministries of the church and outside through the mission of the church. Click the picture to learn more and sign up.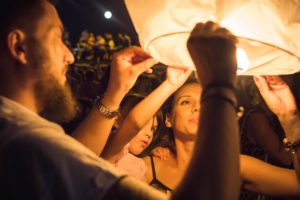 Partnership is the deepest step of involvement and commitment to the Hydrant Church. You can click the picture to learn more and sign up for the next partnership class.
"Great things are not done by impulse. Great things are done by a series of small things brought together."
– Vincent Van Gogh
Hydrant has been called to feed Hwy 111 South, Goldsboro and Wayne County. Not only spiritually but physically as well. Our pantry serves everyone, no questions asked!
We distribute food every 3rd Saturday right at Hydrant Church.
Food can also be received by appointment by calling our office!
There are many ways to get involved!
Come help pack to go boxes, serve at a distribution day, or donate food!
Contact John Crocker or Pastor Liz to get involved!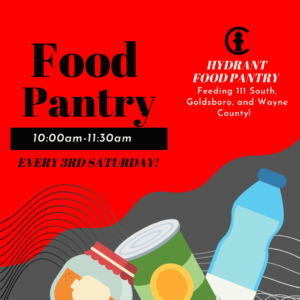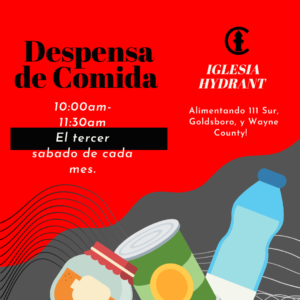 The Table- A Pay as you can restaurant coming to Goldsboro NC
"The table is more than just a place to eat. At the dinner table is where lives are changed, friends are made and where family comes together."
The national average for poverty is 12.3%, here in Wayne County we rest at 20.2%. It's time to do something about these numbers. The Table, partnered with Hydrant Pantry, have a great desire to see every food insecure person have a place to eat.
At The Table there are 4 ways to pay.
Want to know more? Check out our Facebook page for up to date events and informational meetings! Church Information
The Hydrant Church 350 NC HWY 111 South
Goldsboro, NC 27534
Phone: 919-778-9814
Email: office@hydrantchurch.org Facebook: www.facebook.com/hydrantchurch